Exchange
Trade over 1000 Instruments.
Anywhere, anytime. CFDs on Forex, Shares, Indices, Commodities, Metals and Energies
USD
$ 0.0002460494242043524
The deepest liquidity pool on the market
Crypto CFD Liquidity
Liquidity is important for all tradable assets including cryptocurrencies and traders need to have transactions completed as quickly and as cost effectively as possible. The cryptocurrency market is an emerging asset class on the global arena with a growing adoption of crypto by both retail and institutional investors.
CFDs are a convenient way of trading cryptocurrencies. We offers an incomparable Crypto CFD solution aggregating cryptocurrency exchanges, non-bank liquidity providers, cryptocurrency exchanges, OTC orders of institutional clients, hedge funds and thousands of client orders to create the deepest liquidity pool in the industry to meet all our client's needs.
What is a Crypto Exchange?
A Crypto Exchange refers to a firm that has accounts with major market-makers and offers their services to market participants such as Liquidity Providers and Crypto Exchanges, etc. A Crypto Exchange aggregates liquidity in order to build a reliable service with the deepest depth of market to support trading at big volumes on cryptocurrencies, with minimal slippage and ultra-competitive conditions.
24/7/365
Trading Availability
Settlement
Wire transfers in USD, EUR, GBP are available via SWIFT, SEPA and Faster Payments together with settlements in major cryptos and stable coins.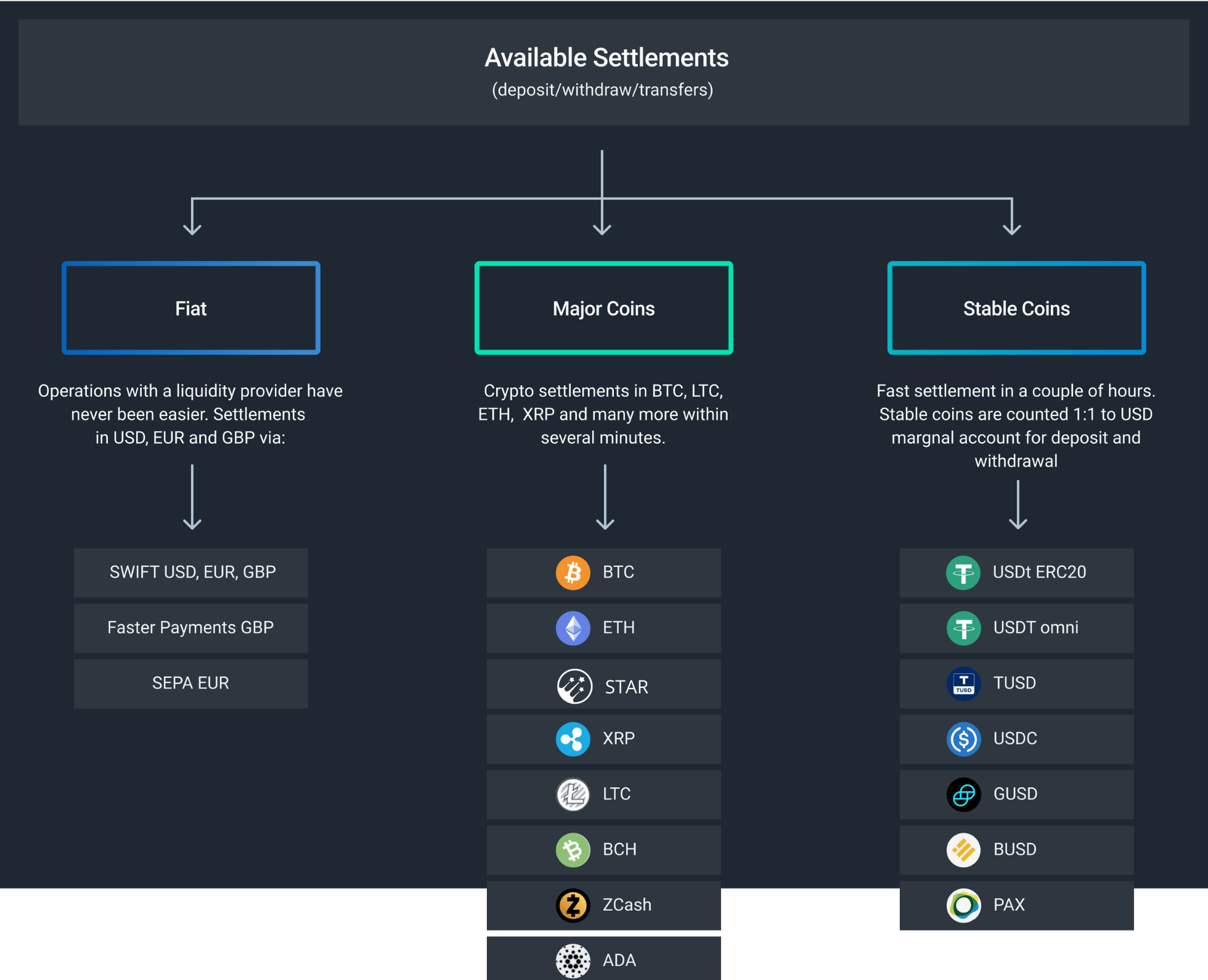 100 Crypto CFDs
7 markets
We are a Liquidity provider that offers 100+ crypto CFD instruments with Crypto-to-Fiat, Crypto-to-Gold, Crypto-to-Silver and Crypto-to-Crypto pairs. Allows us to provide liquidity with tight spreads and with significant volumes even on TOB prices. Our liquidity contains major crypto assets as well as minors and exotic assets: 7 markets in total. All crypto CFD instruments are available for trading 24/7.
1* STAR token Deposit and Withdrawal will come in after the price has stabilized